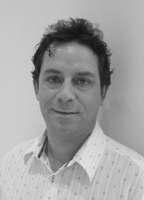 Mint Pictures Managing Director and Head of Programming, Adam Kay, started his television career in 1992 as a researcher working on a current affairs show for Channel 4 in the UK. He quickly developed a taste for hard hitting journalism and worked on 'Dispatches' and numerous exposés for Channel 4.
After just two years in the industry he joined Chrysalis Television – at the time one of the UK's fastest-growing independent TV companies. Initially a sports production company he worked as a producer on Arsenal TV; Lawn Bowls for the BBC; 'NBA Basketball' and 'Planet Football' for Channel 4.
Moving through the ranks quickly Adam was posted to New York to produce the NBA Basketball coverage for Channel 4 and was then made series editor for ITV. From here he diversified to produce factual entertainment shows for Chrysalis TV including the infamous 'Top Ten' series for Channel 4.
A year in Australia saw him produce 'The Winner is Sydney' for Channel 7 and direct the Archery and segments of the marathon for Sydney Olympic Broadcasting Organisation at the Sydney Olympics 2000. In 2001 Adam returned to the UK as a director on the World Rally Championship and recced every inch of road on the WRC and produced a camera schedule for his team of cameramen and production personnel.
In 2004 Adam made a permanent move to Sydney and was offered the role of a sports producer for Network Ten. He led a pool of production staff across the network's flagship motorsport events such as Formula 1, MotoGP, Australian Rally Championship and Indy Car and on live events he produced all of the talent. After spending two years working for Network Ten he moved back to Chrysalis (now North One and a part of the All3Media empire) to run their Sydney office and became Head of Programming in March 2007.
Now Managing Director and Head of Programming at Mint Pictures (after purchasing North One Australia) he has experience in all television genres, oversaw the growth of North One in Australia and has executive produced of all North One Australia's/Mint's content including the flagship contract with Tennis Australia; Frozen In Time, Football Superstar, Cricket Superstar, Marathon Man and The Archibald for Foxtel; Bushwhacked!, Brilliant Creatures, Code of Silence, Breaking The Silence, Pitch Battle and Streets of Your Town for the ABC; Strictly Jewish for SBS; Red Bull Cape Fear and Breaking The Beat for Red Bull Media House and John Eales Reveals: The Haka for Discovery Channel. He has also won a Human Rights Award for the Foxtel documentary Football United and Walkley award for Code of Silence for the ABC.
Be it live, ENG or post production Adam skills are wide and varied and nothing leaves Mint Pictures without having his stamp of approval. He is held in high esteem across the international television community and has produced (including supervising daily highlights shows and news feeds) and directed at the Sydney Olympics 2000; Athens Olympics 2004; Melbourne Commonwealth Games 2006; Doha Asian Games 2006; Beijing Olympics 2008 and in 2010 put together the production team and directed the much-acclaimed Archery coverage at the India Commonwealth Games.