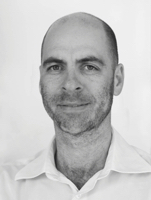 Dan is a multi-award-winning producer who began his career in newspapers and magazines. He then authored a book published by Lonely Planet Publications and launched at the Melbourne International Writers Festival. Then came the World Wide Web, online publishing and now television. Regardless of the platform, it boils down to story-telling. From a 200-word brief to a TV series, the narrative is the crux.
His credits include 'Passport to Hope' for Foxtel (winner, 2010 UN Human Rights Award for TV); 'Bushwhacked!' Series 1, 2 and 3 for ABC3, which has won multiple awards, including the 2014 Asian Kids TV Show of the Year, 2015 Science Award at the Chicago International Children's Film Festival and a Gold Remi at the 2015 WorldFest in Houston, as well as the silver award at the prestigious Prix Jeunesse in 2014 and two Logie nominations (2015 and 2016); 'Code of Silence' for ABC (winner, 2014 Walkley Award for Best Documentary); 'Brilliant Creatures' for ABC & BBC (winner, 2015 NSW Premier's History Prize; finalist, 2015 Logie Awards; finalist, 2014 AACTA awards); 'Pitch Battle' for ABC (winner, 2015 Australian Sports Commission award; winner, 2015 Ellie Award; winner, 2016 Bronze Medal, New York Festivals World's Best TV & Film); 'Breaking the Silence' for ABC, the sequel to the award-winning 'Code of Silence'; and 'Strictly Jewish', the highest-rating of the four-part SBS series, Untold Australia, and winner of the 2016 Screen Producers of Australia award for best single documentary. 
His journalism has been published in The Sydney Morning Herald, The Bulletin, The Australian, The Age, The Sunday Age, The Sun-Herald, The Brisbane Times, The Observer, The New York Forward, The Big Issue, New Matilda, Limelight Magazine, Newsweek Magazine, The Jerusalem Post, Haaretz, Maariv, Jewish Telegraphic Agency, The Jewish Chronicle and The Australian Jewish News among others. It has also been syndicated to other publications. He spent five years as the editor of the Sydney and Melbourne editions of the Australian Jewish News, before working as a sub-editor at the Sydney Morning Herald and The Bulletin magazine. He has also been the Australian correspondent for Haaretz in Tel Aviv, Jewish Telegraphic Agency in New York and The Jewish Chronicle in London.
Dan has lived and worked in the U.K., the Middle East and now Australia. In between, he's traveled across Central and South America, Europe, the Middle East and Asia.